Sticks and Cones
Mobile Ice Cream Vendors
Charlotte, NC
​704-545-7823
About Us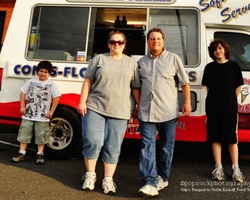 Sticks and Cones Ice Cream is a family owned and operated company.
Dave and Karen have been together since 1989. In one way or another, we've worked together most of that time.

The business is our livelihood, and our goal is to make sure our customers leave our trucks with ice cream in their hands and smiles on their faces.

(Look how young our kids were when we started out! Aaron was 7; Ben was 13. Now Aaron's in high school and Ben's in college!)

Sundae, the Sticks and Cones Mascot

Sundae is a rescue who joined our family after being saved from a neglectful situation by the wonderful folks at the Humane Society of Iredell.

After her rocky first year, Sundae is totally enjoying her new life as a beloved member of our family. (Well, she may not be too beloved by the cats, but they're keeping her in line.)

She's pretty sure she lucked out by getting adopted into a family with a never-ending supply of ice cream! But we're absolutely convinced it's us who got the best of the deal.